Product & Engineering
·
Enschede
·
Hybrid Remote
Technical Partnerships Manager
As a Technical Partnerships Manager at Booking Experts, you play a crucial role in maintaining technical partnerships and optimizing integrations with external parties both domestically and internationally. You serve as the technical point of contact for API-related inquiries and app development, ensuring clear communication, documentation, and effective collaboration with various internal teams such as engineering, sales, and support.
What will you be doing? 🤔
You are responsible for the quality of the API documentation, ensuring that all relevant information is up-to-date and easily accessible. Additionally, you actively contribute to the prioritization and roadmap of integrations, taking into account user needs. You continuously identify improvements for our App Store, API, and internal integrations. Analyzing technical processes and systems, you identify opportunities for optimization and implement improvements to external integrations. You communicate these improvements to our integration partners.
You are also involved in small technical projects, leveraging your technical expertise to achieve successful implementations. You test and approve API modifications, ensuring that all changes meet Booking Experts' quality standards and have no negative impact on the user experience. Another important aspect of your role is ensuring streamlined communication and timelines regarding breaking changes in the API. You keep all relevant teams informed of any changes, ensure timely implementation of changes, and minimize their impact on involved parties.
Where will the focus be? 🧐
Maintaining technical partnerships and optimizing integrations with external parties. 
Improving API documentation and identifying/implementing improvements to our App Store, API, and internal integrations.
Testing and approving API modifications.
Ensuring streamlined communication and timelines regarding breaking changes in the API
Who are we looking for? 👀
We are seeking an enthusiastic and driven Technical Partnerships Manager with demonstrated experience in software development and technical partnerships. You have knowledge of API documentation and experience with client tools such as cURL and Postman. You can translate ideas into technical solutions and possess a commercial mindset. You are critical of others' work, adhering to Booking Experts' standards, and work meticulously and systematically. Affinity with software development is a requirement.
In this role, it is crucial to be accurate and meticulous in your work, as small errors in API documentation or changes can have serious consequences for integration functionality. You act as the link between different teams, ensuring effective collaboration between technology, sales, and support to achieve the best results for our customers.
Your skills 🎓
HBO/WO-level education or equivalent.
Minimum of 2 years of work experience in a similar role.
Strong communication skills.
Knowledge of API documentation Knowledge of client tools such as cURL and Postman 
Appreciated qualities 🛠️
Proactive and independent work attitude 
Analytical and problem-solving skills 
Team player with excellent collaboration abilities 
Customer-focused and results-oriented 
Flexibility and adaptability in a fast-changing environment

Your department and the team 👊🏼
A department full of freedom, technical knowledge, vision, growth and peace, but with fun from time to time; that is our Product & Engineering department. Every day our team of experienced engineers works on a scalable and advanced booking platform for holiday parks. With us you will find specialisms such as backend, frontend, full stack and DevOps.
Why apply? 🙋🏼
Of course we offer you a good salary based on skills and experience even. But we also offer you excellent fringe benefits and sufficient holiday. We therefore find the balance between work and private life important.

At Booking Experts we strive for a healthy working environment. That is why you will find fruit at our office, we encourage you to take a daily walk, there are stand-sit desks and responsible lunch options. There is also always coffee, tea and soft drinks ready for you. In addition, we wholeheartedly encourage the initiative 'a smoke-free generation'. We therefore appreciate that our employees do not smoke during office hours.

We regularly do fun things, we have lunch together during the break and occasionally have a drink in town. Booking Experts also regularly organizes company outings and you can join the Friday afternoon drink!
What we offer you 💰
Full-time employment of 40 hours per week with flexible hours.
Employee benefit: 10% salary surcharge (capped at €500) that you can use to save, invest or do something else.
5 weeks holiday: Per year and of course the standard Dutch holidays.
Annual salary increase: Our growth is a collective effort. That is why we increase all wages in the same proportion.
Flexible working hours: Organize your working day yourself.
Work wherever you want: from home, our beautiful office in Enschede or Amersfoort, a co-working space, from the train, you name it.
MacBook & large screen: Of course we provide a good laptop and a large screen so that you can work effectively.
Sit-stand desk: Everyone works from a sit-stand desk, both at home and in the office.
Home workplace: We provide a well-equipped home workplace. You get a sit-stand desk, a good desk chair and a large screen for home.
Free lunch: Every day you get a free lunch at the office and every Friday sandwiches from the Broodbode or Tango are delivered.
Secondary employment conditions:
Company parties 🕺🏻
Professional development budget 💰
Flexible working hours 🕘
Friday afternoon drink 🥂
Work from home (hybrid) 🏡
Do you see yourself working here? Do not wait any longer and apply immediately!
Department

Locations

Remote status

Hybrid Remote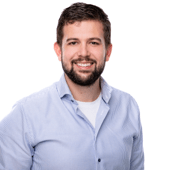 Contact
Stefan
CTO – Executives
Product & Engineering
·
Enschede
·
Hybrid Remote
Technical Partnerships Manager
Loading application form